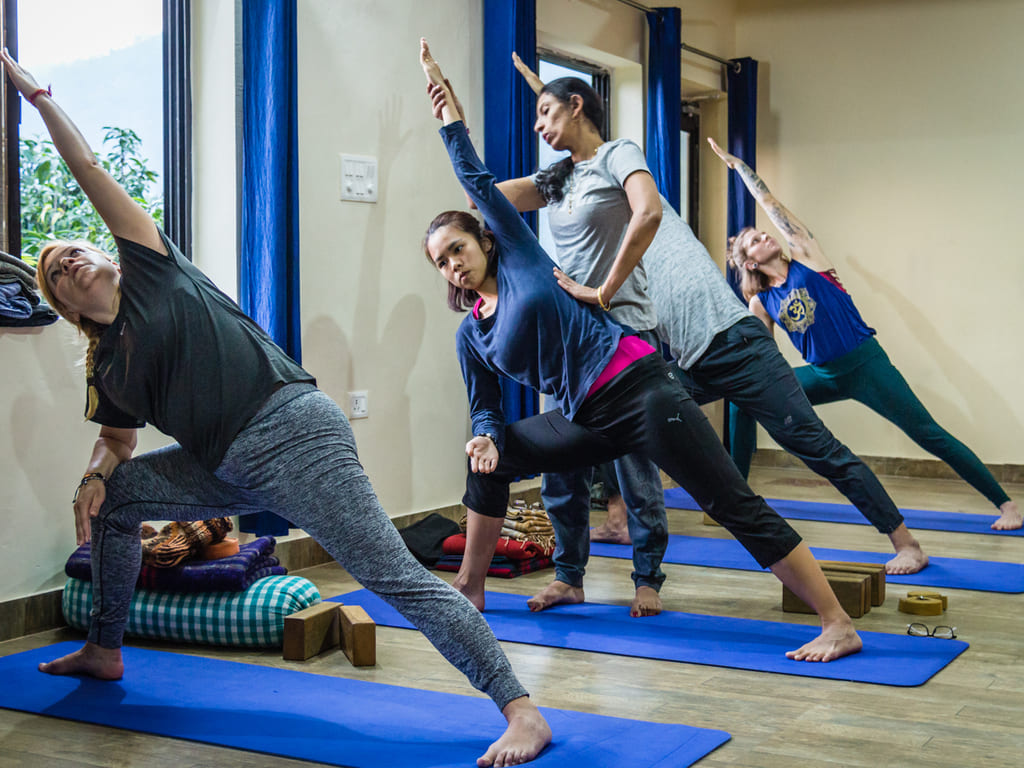 Some Things to Consider Before you Take-up Yoga Teacher Training ?
Yoga teacher training can be an intensive experience physically, emotionally and mentally but is can also be rewarding. So how do you know that you are ready to step into this challenging arena of becoming a yoga teacher? Well some say it is a gut feeling but others say that you know it is time to move to higher practices when all you do is eat, breathe and love yoga! It does not matter how long you have known and practiced yoga, but what matters is that you have a strong wish to share with others the happiness, contentment and good health yoga has brought you.
A new yoga path
If you have the desire to develop your understanding and awareness of yoga practices and philosophy behind the practices then yoga teacher training is the path for you. Unravelling the subtle nuances of yoga, of which you might not be quite aware of as yet, could see you embarking on a yoga journey that can be interesting and fulfilling. If you feel that you are stagnating in your present level of yoga practice and want to have new insights about yoga then you could think of yoga teacher training as the next stage of yoga learning. You should also be physically and mentally prepared to go into a journey that can than transform you so are you prepared for the changes yoga teacher training will bring?
Touch innermost self
Yoga teacher training can be tough, not only because you have to master the more advanced yoga asana but because you also have to look inside yourself, get in touch with your deepest fears and insecurities of which you might not be aware as yet. Yoga teacher training means that you learn to come to terms with your innermost self. You need to be comfortable with a minimum level of asana practice so you remain dedicated to learning other practices with the grit they might require. You need to have a strong desire to learn new teachings, be prepared to push your physical boundaries, to study philosophy and anatomy, do assignments and complete the yoga teacher training course so you can become a truly amazing yoga teacher.
Understand your motives
Before you embark on the yoga teacher training journey ask yourself your motives for doing the training. Are you doing yoga teacher training because that's what you want or is it only because you want to improve your personal yoga practice. Are you curious to see how well you fare in yoga teacher training because you have been practicing yoga for many years or are you just following your dream because you always wanted to be a yoga teacher. Based on your motive you must choose the right yoga teacher training school. Every yoga teacher training ashram or yoga school is different and they teach different types of yoga like Hatha, Ashtanga, Iyengar, Vinyasa or a combination of two types of yoga. Whatever, style you wish to learn you must make sure it is truly what appeals to you and that is the style of yoga you wish to teach as a yoga teacher.
Some practical considerations
Yoga teacher training cannot be done on a whim and fancy. You need to be fully conversant with your own skill sets. You must decide on a specific programme only after you have thoroughly researched the country, the yoga school, yoga style and the level of the teacher training course they offer. After all you could have been saving money for the training for some time and you wouldn't want to throw all that away if you select the wrong yoga teacher training school. If you are not sure, you could get in touch with the yoga school and clarify your doubts. You could speak to others who have already done the training or you could opt for short courses at a yoga school of your choice and see if that experience is in sync with what you truly want.
Concluding thoughts
Remember, that you need to have an open mind and a willingness to take the teacher training in your stride. You would also require long time commitment to continue with the various levels of yoga teacher training right from 100, 200, 300 hours to 500 hours teacher training course. If you have any doubts about yoga teacher training then it is better to clear them first before you begin or you could land up telling yourself that yoga teacher training is a waste of time. If you are not a people's person and have no desire to connect with others or if you don't want to change your life or really meet up with other like-minded people from around the globe then you must thing before you jump into yoga teacher training. If you are passionate and ready to meet the challenges of yoga teacher training then you could find the training enlightening. If you consider yoga teacher training carefully then it can be a wonderful experience and at the same time humbling and grounding.