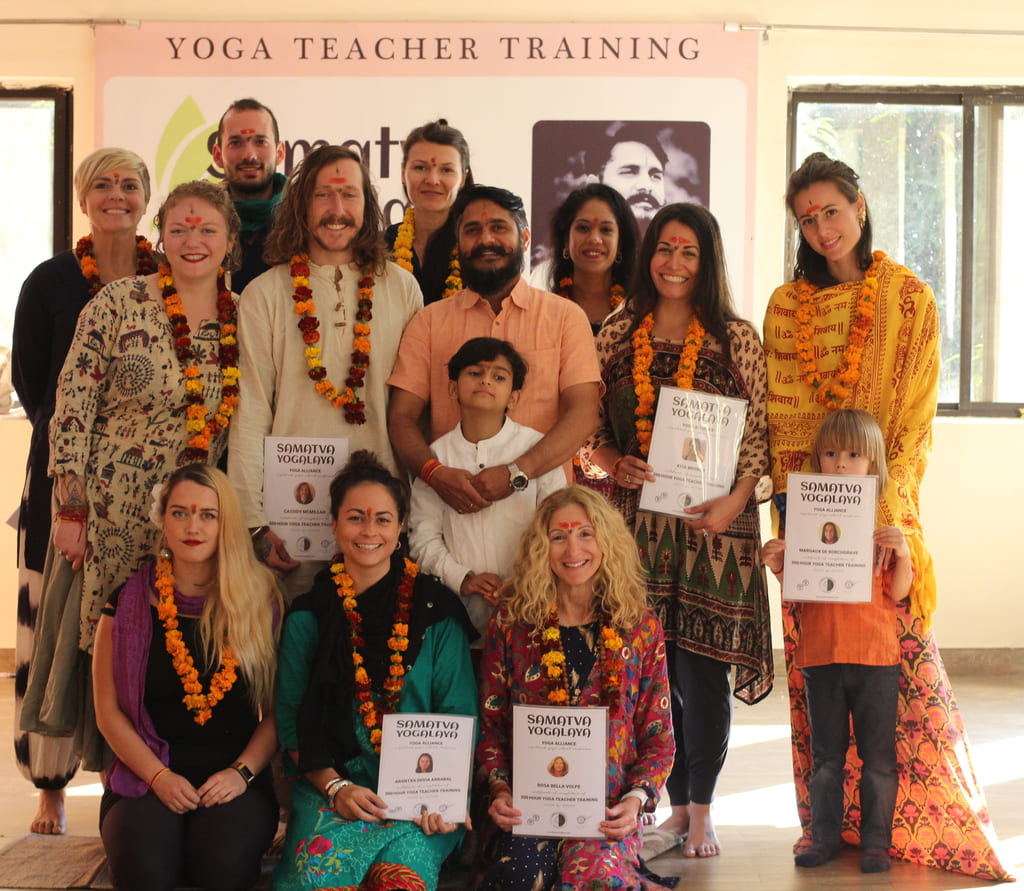 Yoga School in India: Samatva Yogalaya - Rishikesh - RYS 200, 300, 500
Samatva Yogalaya, Rishikesh offers a spate of yoga programs in India which include yoga for beginners, yoga retreats and yoga teacher training - Ryt 200/500. After completion of the Yoga Alliance teacher training courses and receiving the certification, learners become eligible to register as yoga teachers (RYT 200, E-ETR 200, RYT 500 or E-RYT 500) with Yoga Alliance and teach yoga anywhere in the world.
Samatva Yogalaya is located near Ram Jhula in Swarg Ashram area of Rishikesh which is a Himalayan town in the northern state of Uttarakhand, India. It is not only known as the yoga capital of the world but is equally known for its spiritual attributes. In ancient times yogis, rishis and sages were attracted to this peaceful town through which the Holy Ganges flowed.
Samatva Yogalaya welcomes all yoga learners whether you have only little or advanced knowledge of yoga and even if you have just heard of the term and know nothing about yoga. We conduct residential yoga programmes based on traditional hatha yoga, hatha yoga in iyengar style and hatha yoga in ashtanga style. The courses include
Study of treasured yoga texts like Patanjali Yoga Sutra, Hatha Pradipika, etc.

Practice of asana

Practice of pranayama including therapeutical and spiritual benefits

Study and practice of meditation

Learning cleansing techniques
Modern day Rishikesh is equally well known for yoga ashrams and tourism. Yoga and tourism are what attract international visitors to this town. Its natural beauty, peaceful atmosphere and yoga on the banks of the Ganges go hand in hand with a host of adventure activities like white water rafting, camping, trekking, rock climbing, bungee jumping and jungle safari in Rajaji National Park to sight tigers and other wild animals.
Rishikesh is in the foothills of the Himalayas and is 240 km from New-Delhi the capital of India. It is conveniently connected by road, train and air. Nearest railway station from Delhi is Haridwar (20 Km from Rishikesh) and nearest airport is Dehradun (18 Km from Rishikesh).
About Krishna Sikhwal
Krishna, founder of Samatva Yogalaya, began his journey as a yoga instructor and course director of 300-Hour Yoga Teacher Training programs at Rishikesh Yog Peeth in 2012. Since then, his expertise in the numerous techniques of yoga practice makes him a most respected Guru in the area.
The extensive knowledge that he possesses of yoga asana, philosophy, history, and meditation give depth to his classes making the courses more authentic, accessible and meaningful to all students. Krishna believes that yoga is not only something that you do, but it is something that you live, therefore he encourages all students to be disciplined, ask questions, and do research in order to understand their own potential and limitations. It is with this view that he guides students to practice yoga for mastery of both body and mind.
Experience
---
2012-2015
Rishikesh Yogpeeth
Instructor & Course Director
300 Hour Yoga Teacher Training
2015 - till now
Samatva Yogalaya
Lead Trainer & School Director
200, 300, 500 Hour Yoga Teacher Training
About Sangita Sikhwal
Born in the rich and vibrant land of Rajasthan where life of every individual is devoted to God following the rich traditions, culture, customs as a legacy, Sangita Sikhwal studied and understood the sacred traditional texts from her grand mother. Influenced by the teachings and philosophies of India, she was brought into this lineage of yoga. Through her life with yoga, she realise that there is lot of peace and joy inside each one of us that does not depend on anything external.
To extend her knowledge she went to study in Kaivalyadham , Lonavla and worked as a therapist in Kaivalya dham yogic hospital. Consistently amazed by the power of yoga to bring about profound transformation. She started her yoga journey with traditional hatha yoga and soon later she was blessed to practice Iyengar yoga under direct disciples of BKS Iyengar such as Rudra Dev and Usha ji. Her main intention is to share the knowledge gained from her own personal practice . She is very passionate and determined too.
About Aneesh Sikhwal
Originally inspired by his Uncle Krishna Ji, Aneesh has dedicated the last 4 years of his life to his Yogic Practice. Hatha Yoga held his focus for his early days, living and training with his family and in the yoga school while he qualified his total 500 hours TTC. He has since taken is focus deeper into Traditional Ashtanga Vinyasa qualifying as a teacher of this method. Aneesh lives and breathes his practice and has become an incredible teacher Ashtanga at Samatva Yogalaya.
Students have described him as helpful , kind hearted , and willing to help students at anytime . A deep passion for yoga is not just his vibe , but his way of life . He has lived on the ashram for years , and has been doing yoga his whole life . Aneesh is a treasured teacher at Samatva Yogalaya !